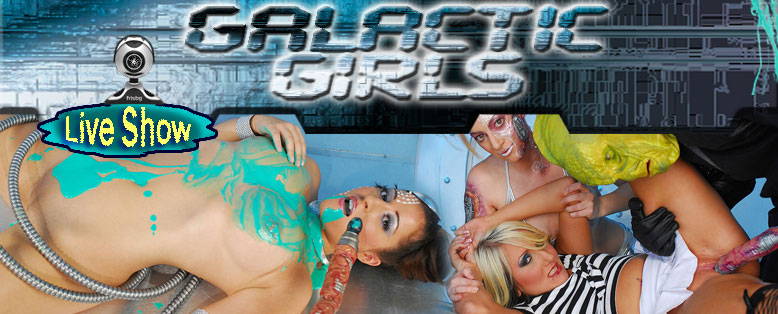 Leila Swan and the Alien Predator
Spacegirl Leila Swan is on a mission to negotiate with the Evil Aliens as a Space Empress. Upon her arrival to the Alien Planet of Cassiopenis, she is immediately brought into the Holding and Probing Laboratory to await her meeting. Instantly, she begins to be restrained by the cyber tentacles and forced into a submissive posture on the "Probing Chair"! As Leila Swan struggles to escape the captive tentacles, they suddenly release as the Alien Predator enters.Tricked into believing this Predator is here to save her, Leila Swan is both startled and relieved. The Alien Predator his "Powers" to "Mind Control" Leila into a state of Sexual Arousal, allowing him to Plant His Alien Seed in her Swelling Pussy!!! Has the Evil Alien Clone begun his process to create an army of Alien Offspring!!!

---

Amber and Anastasia in Space Orgy
Spacegirls Amber Michaels and Anastasia Pierce have added a Male Earthling to there "Galactic Sex Experiment"! They have been training and pleasing their Hot Pussies with Interstellar Probes, both "free form" and "harnessed", but now Spacegirl Amber has demanded some "Human Flesh Cock" to fill her needs and her WET HOLES!!! As Anastasia works on the Extension Probe, strapped into Amber's Snatch Sensory Network, the Human Cock gets an "Oral Workout" from Amber's Highly Trained Mouth and Lips!!! All of this Probing, Plugging, Sucking, and Licking has got both Amber's and Anastasia's Pussies Throbbing and Wet! Space Orgy As Amber works the Human Cock with her Slippery Hot Snatch, their Earthling cannot hold back any longer and shoots a Massive Cum Load all over Spacegirl Amber's Swollen Tits!!! Spacegirl Anastasia is so AMAZED with this Hot Liquid Load that she runs her Pussy Gushing Wet hands all over Amber's "Loaded Breasts" to rub, feel, and sample this Large Human Cum Squirt!!!

---

Jade Starr in Galactic Feeding
She Devil Vixen beams up to the Evil Aliens Lab in her new Galactic Slut uniform to see if she can overcome the small, but powerful Evil Alien Creature known as Zarconius. Immediately She Devil Vixen begins to tease and flirt with Zarconius trying to get the upper hand with her Pussy Power little does she know that this little Evil Creature is slowly manipulating her to HIS WILL!!! As she begins to display her Sexual Attractors (tits and ass), Zarconius begins to enter She Devil Vixen's mind and guide her to the first Pussy Sucking Probe Area she cannot resist as the Probe introduces a Pleasure Sensor into her Vaginal Cavity making her begin to get Hot, Horny, and Wet THE CONTROL BEGINS!!!

---

Jelena Jensen Galactic Girl
Big titted Playboy model Jelena Jensen has applied for Galactic Warrior in order to help her fellow porn stars. In this dangerous times of outrages war, between planet Pussea and the evil alien breeders, she was accepted and brought right a way to the training DNA facility. The test of her will and courage has began.stay tuned to GalacticGirls.com.

---

Tall Goddess and Ginger Jolie
Ultra Spacegirl Tall Goddess finds a HOT BABE to initiate into her GALACTIC Babe Lair, Ginger Jolie! Tall Goddess begins to lightly seduce Ginger Jolie setting the stage for full control! Ginger's irresistible breasts get lightly caressed by Tall Goddess' highly skilled hands prior to her more dominate action…her quest is as follows: CONTROL THE PUSSY AND THE HEAD WILL FOLLOW!